Acknowledgement 
Thank you Rev. Philip Varughese for celebrating today's Holy Qurbana Service and for the inspiring message. Thanks to lay leaders, choir, & media committee for assisting with today's service. 
Worship Service
Next Sunday June 19, 2022
Divine worship service in English at 8:30 AM (Rev. Dr. Itty Mathews)
Bible Study
Bible Study: Cancelled for this week (June 15, 2022)
No Bible Study will be held on Wednesday June 22nd, due to VBS.
VBS 2022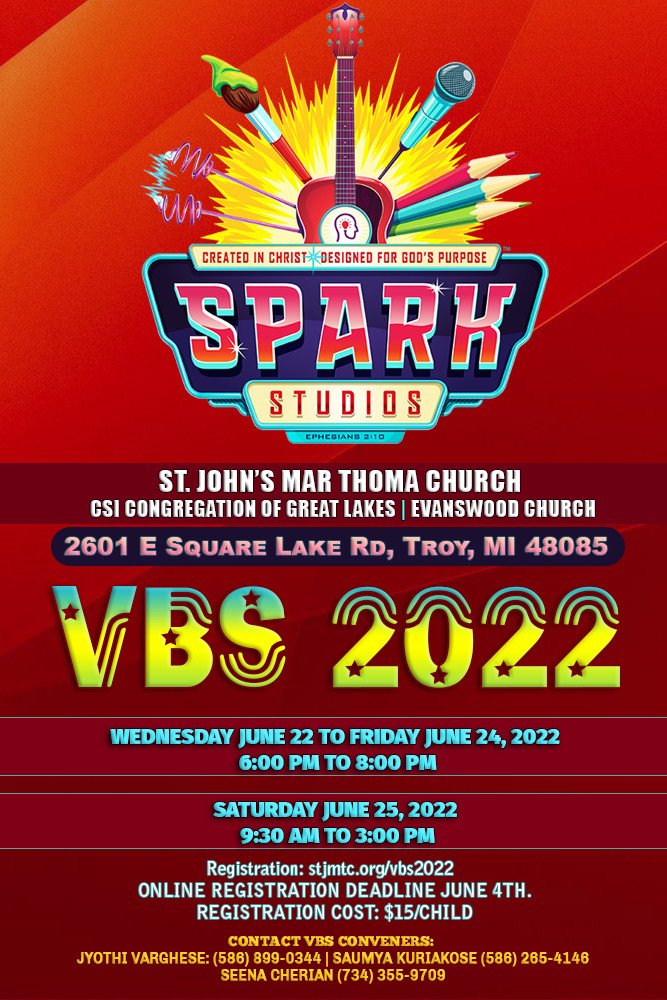 Volunteers are needed, if you would like to help with VBS please contact Mrs. Sunitha Mathew.
43rd Diocese Youth Conference
Date: July 29, 2022 - July 31, 2022
Theme: Slip Not (Psalms 37.24)
Place: Bryn Athyn College (2945 College Dr, Bryn Athyn PA 19009)

Registration and other details can be found at 

https://apthomas320.wixsite.com/dyfc2022
Deadline to Register: Friday July 1, 2022
Refreshment
Thank you to Refreshment Committee for organizing today's refreshments. 
Birthday & Wedding Anniversary
St. John's Mar Thoma Church would like to wish all celebrating their birthday and wedding anniversary this coming week. May God Bless you.
Prayer Requests 
Let's pray for those having health challenges:

Mr. George Chacko
Mr. George K Thomas
Mr. K. R Samuel
All those going through cancer treatments. 

Let's pray for the Global issue we are currently facing with the outbreak of Coronavirus and for all doctors, nurses, all health workers, essential employees, and all small business workers who are helping in providing medications and food for all of us. Let's pray for all those infected, including the President
Let's pray for all those who are struggling with unemployment. 
Let's pray for our community, so we may live with peace and love.
If you are not receiving emails from the church, please notify us by sending information (full name and email address) to sec@stjmtc.org.
THANK YOU and Have a blessed Week