General Body Meeting Notice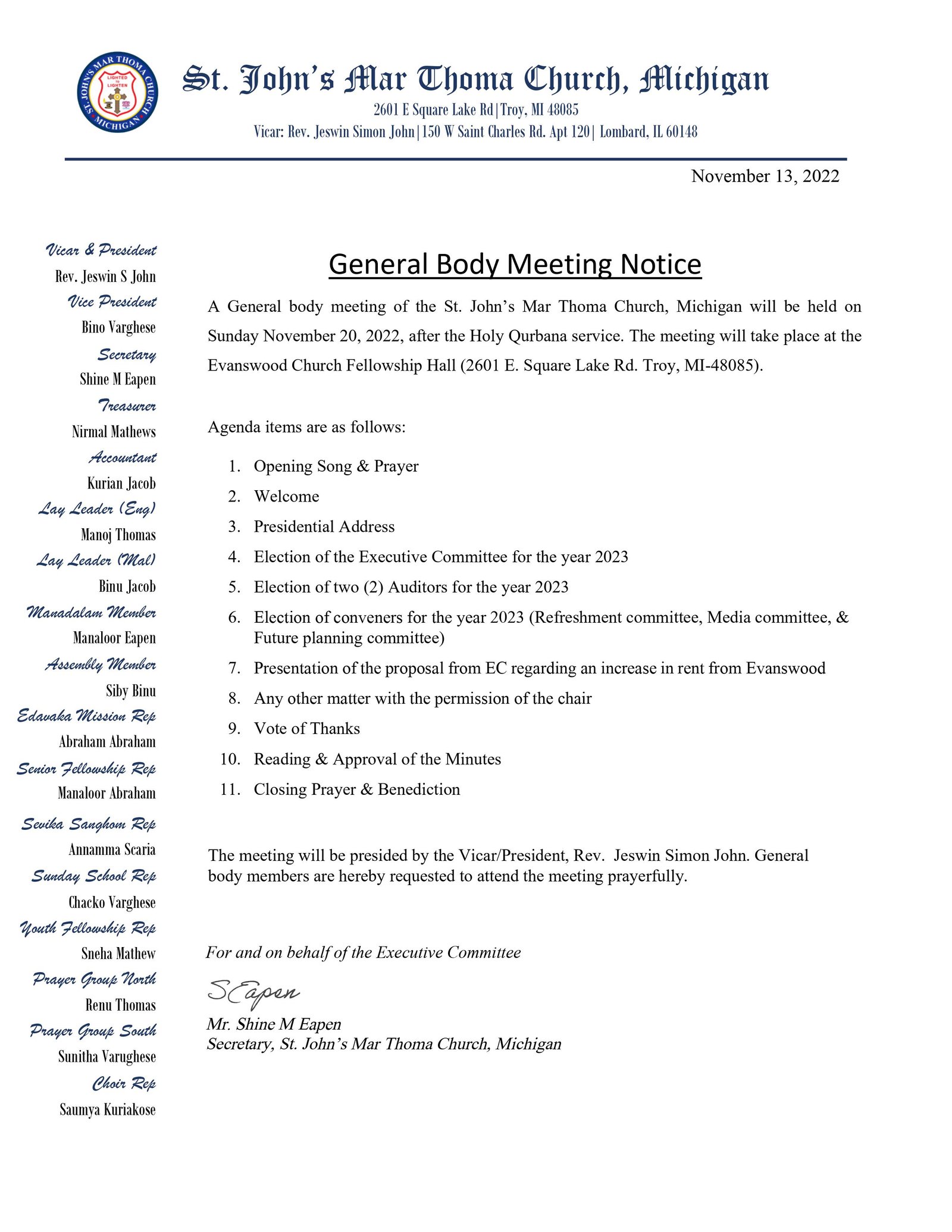 Acknowledgement 
Thank you Rev. Jeswin S John for celebrating today's Holy Qurbana service and for the inspiring message. Thanks to lay leaders, choir, and media committee for assisting with today's service. 
Worship Service
Next Sunday, November 27, 2022
Holy Qurbana service in Malayalam at 8:30 AM (Rev. Jeswin S John)
Sunday School will be online
Bible Study
NO Bible Study will be conducted this week (Wednesday November 23, 2022).
Sunday School
The general body meeting of St. John's Mar Thoma Church Sunday School will be held on Sunday November 27, 2022, after the Holy Qurbana Service in the Evanswood church fellowship hall. The meeting will be presided over by Vicar/President Rev. Jeswin S John. 
The Agenda is as follows:
Election of SS Secretary
Election of SS Treasurer
Election of Representative to the Midwest SS
Election of Auditors
Appointment of SS superintendent
Any other matters with the permission of the chair.
All Sunday School teachers are requested to attend. 
Carol Rounding
Christmas Carol Rounding is scheduled for the following dates: Nov. 27th, Dec 3rd, Dec 4th, Dec 10th, and Dec 11th (reserve day).
Day 1 Sunday November 27, 2022
Start time: 3:00 pm
First house: Mr. Kurian Jacob & family
Last house: Mr. Bino Varghese & family
Day 2 Saturday December 3, 2022
Start time: 4:00 pm
First house: Mr. Chacko Varghese & family
Last house: Mr. Jossy Mathai & family
Day 3 Sunday December 4, 2022
Start time: 3:00 pm
First house: Mr. Anil Sam & family
Last house: Mr. Nirmal Mathews & family
Day 4 Saturday December 10, 2022 
Grand Rapid area
Start time: TBD
If you have any questions, please contact conveners Mr. Solomon Abraham or Mr. Nirmal Mathews 
Carol rounding song practice will be held on Saturday November 26, 2022, at 1:30 pm in the church. Humbly request your participation. 
Young Families Retreat
Date: December 29 - 30, 2022
Theme: Rekindle: Restoring Hope to our World
Venue: Carmel Mar Thoma Center, GA
Registration Fee: $50 per person
Registration Deadline: December 1, 2022
Youth Fellowship- Midwest Mar Thoma Regional Youth Conference
​Theme: Quo Vadis: Where are you going? - Acts 26:16
Dates: Monday, December 26th, 2022 to Thursday, December 29th, 2022
Location: Michindoh Conference Center, Hillsdale, MI
Main Speaker: Rev. Larry P. Varghese
Ages: 14+ (8th Grade onwards)
Registration Fee: $165 USD
Early Registration Deadline: December 4th, 2022
Registration Link: https://forms.gle/Si1NUFeiGkNXQC7v7
Parish organizations & Prayer Groups
Organizations & prayer groups elections for the year 2023 office bearers must be elected before December 31, 2022. The elected list must be submitted to the Vicar or parish secretary. 
Trustees Request- Pending dues
Trustees are requesting members who have pending dues from the auction held during the church picnic, first fruit auction, and food purchase from the cultural fest- CHEVRA to submit dues as soon as possible so that accounts from the respective events can be closed. Humbly request your generous Tithe offering to be submitted as well. We appreciate your cooperation. 
Refreshments
Thank you Refreshment Committee, for organizing today's refreshments. 
Birthday & Wedding Anniversary
St. John's Mar Thoma Church would like to wish all celebrating their birthday and wedding anniversary this coming week. May God Bless you.
Prayer Requests 
Let's pray for those having health challenges:

Mr. George Chacko
Mr. George K Thomas & Mrs. Aleyamma Thomas
Mr. K. R Samuel
All those are going through cancer treatments. 

Let's pray for our dear Elsy Kochamma, as she recovers from her illness. 
Let's pray for our member Mrs. Lilly Samuel as she recovers from her illness.
Let's pray for the Global issue we are currently facing with the outbreak of Coronavirus and for all doctors, nurses, all health workers, essential employees, and all small business workers who are helping provide medications and food for all of us. Let's pray for all those infected, including the President
Let's pray for all those who are struggling with unemployment. 
Let's pray for our community, so we may live with peace and love.
If you are not receiving emails from the church, please notify us by sending information (full name and email address) to sec@stjmtc.org.
THANK YOU and Have a blessed Week