Acknowledgements
Thank you, Rev. Philip Varughese, for celebrating today's Holy Qurbana Service and for the inspiring message. Thanks to the lay leaders, choir, and media committee for assisting with today's service. 
Worship Service 
Next Sunday, June 4, 2023
Holy Qurbana service in English at 8:30 AM (Rev. Jeswin S John)
Celebrated as Graduation & Choir Sunday
Sunday School will begin at 10:30 AM
Graduation Sunday
Graduation Sunday is celebrated for all those who have graduated from College or High School. Humbly request that all who have graduated to please attend the service on Sunday June 4, 2023.  
Bible Study
Date: Wednesday May 31, 2023
Time: 7 PM
Location: Church
By: Mr. Thomas Kovoor
Humbly request your prayerful participation.  
Prayer Meeting
Prayer Group South Monthly Prayer Meeting
Date: Sunday May 28, 2023
Time: 5 PM
Residence of: Mr. John Varughese & family
Address: 41736 Tarragon Dr, Sterling Heights, MI 48314
Humbly request all prayer group south members to attend.
Edavaka Mission
Edavaka Mission's monthly meeting will be held on Saturday June 3, 2023, at 5 pm in church. Humbly request all Edavaka Mission members to attend the meeting. 
Sunday School
VBS 2023
VBS will be held from June 21st to 24th at the church. 
Theme: Twists & Turns (Psalm 25:4)
Timing:

Wednesday June 21 - Friday June 23, 2023: 6:00 PM to 8:00 PM
Saturday June 24, 2023: 10:00 AM to 3:00 PM

Registration fee: $25/child
Registration Deadline: Friday June 9, 2023
Register online: https://stjmtc.org/VBS2023
Those who are interested in volunteering for VBS this year, please contact Mr. Jossy Mathai. 
Bake Sale
A bake sale organized by Sunday School will be held on Sunday June 4, 2023, in the church fellowship hall after the service. The Bake sale is arranged to raise funds for VBS 2023. Humbly request all parish members' prayerful participation. If you have any questions regarding the bake sale please contact Mr. Chacko (Viju) Varghese.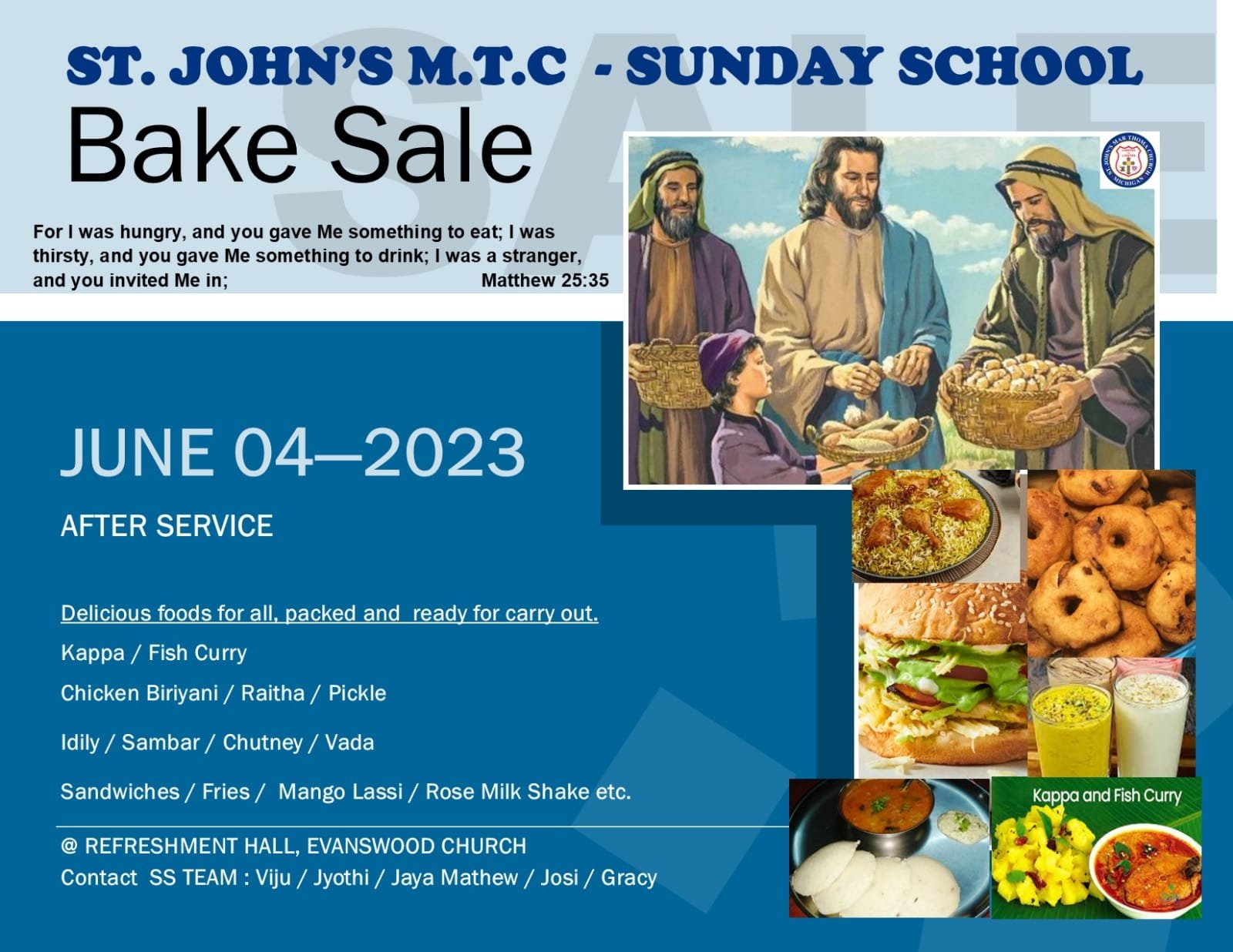 Condolences
With deep sorrow, we inform you all of the sad demise of Mrs. Chinnamma Daniel (89 years old) grandmother of Mr. Rejeesh Rajan, on Friday May 26, 2023, in Chennerkara, Kerala, India. The funeral service was held on Monday May 29, at St. Mary's Malankara Catholic Church Pampumala. St. John's Mar Thoma Church expresses our deepest condolence, may the love and peace of our Lord Jesus Christ, rest upon you and your family.  Please uphold the family in your prayers.
Refreshments
Thank you to the refreshment committee for organizing today's refreshment. 
Birthday & Wedding Anniversary
St. John's Mar Thoma Church would like to wish all celebrating their birthday and wedding anniversary this coming week. May God Bless you.
Prayer Requests 
Let's pray for those having health challenges:

Mr. George Chacko
Mr. George K Thomas & Mrs. Aleyamma Thomas
Mr. K. R Samuel & Mrs. Lilly Samuel
Rev. Philip Varughese & Elsy Kochamma 
Aleyamma Cherian
All those are going through cancer treatments.

Let's pray for Mr. Rejeesh Rajan and his family, as they overcome the loss of their grandmother. 
Let's pray for all those who are struggling with unemployment. 
Let's pray for our community so that we may live with peace and love.
If you are not receiving emails from the church, please notify us by sending information (full name and email address) to sec@stjmtc.org.
THANK YOU and Have a blessed Week